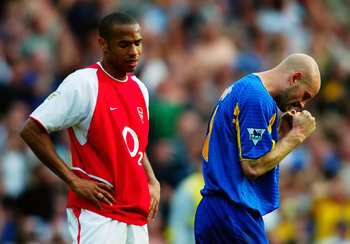 By Shane Thomas
There's a degree of irony in the Emirates Stadium possibly being the deciding factor in Manchester City's faltering title challenge, as the fortunes of Arsenal and City have been somewhat intertwined since 2008. Not only has there been a periodic stream of players leaving North London for Manchester, but ever since Sheikh Mansour bought the club, City has been on the receiving end of supercilious sentiments from other clubs, unhappy with the new found riches at their disposal. Arsenal manager Arsene Wenger has been one to brand the opulent spending teams like City and Chelsea as "financial doping". Whether you believe this is true or not (which may depend on who you support), what is clear is that Arsenal's status as a regular challenger for the English league title has diminished as City and Chelsea's have increased.
However, it is Wenger's men who may have put paid to City's ambitions to win their first league championship for 44 years, as their superb performance looked to have completely knocked the stuffing out of City. The Citizens have been given a sliver of encouragement as Manchester United fell to defeat against Wigan, but they still remain five points off the champions with only five matches of the league campaign remaining.
The reason I bring up Arsenal here is that watching City in the early part of this season reminded me strongly of Arsenal sides of recent vintage. Arsene Wenger's most successful teams (while in charge of the Gunners) often combined high technical skill and rapid pace & fluidity with a muscular physicality down the centre of the pitch. For David Seaman, read Joe Hart. Yaya Toure is City's Patrick Vieira, Vincent Kompany its Sol Campbell, David Silva playing the role so expertly performed by Dennis Bergkamp and Sergio Aguero the club's Thierry Henry.
Like the Arsenal sides that did the double in 2002 and went a league season unbeaten in 2004, City are redolent of their flair, strength and lightning passing in the final third, at times looking like an unstoppable force. Whether deliberate or not, it made sense for Roberto Mancini to model his side on these Arsenal squads, as Arsene Wenger is one of only two managers to have been able to get the better of Sir Alex Ferguson and Manchester United with any kind of consistency. The problem for City however, is that as the season reaches its climax, the Arsenal team they're looking like is not the ones of 2002 or 2004, but 2003, a season many Gooners - me included - would rather forget.
Arsenal started that season as holders of both the FA Cup and the Premier League, a title memorably won at the fortress that is Old Trafford - with Wenger running on the pitch afterwards to celebrate with his players, enthusiastically exclaiming, "We're the best!"
A self-aggrandising statement maybe, but also one of fact. Arsenal had been brilliant that season, and begun the 2002/03 campaign in similar fashion, breaking Nottingham Forest's record of going 22 away matches unbeaten. Wenger hailed a 4-1 hammering of Leeds as "edging nearer to perfection", also claiming that this team was good enough to go an entire league season with losing a match.
Despite Arsenal's dominance, the media response was one of snorting derision, and the unbeaten run soon came to an end at the hands of the right boot of some 16 year old Scouse kid called Wayne Rooney - anyone know what happened to him?
However, Arsenal recovered and led the league by five points with ten games to go. Their football was proclaimed as the best in the division, and many expected them to retain their title.
But Manchester United made their move in the season's closing months. From Boxing Day 2002, they didn't lose a Premier league match, winning 9 out of their last 10 games, a total of 28 points (the draw coming in a 2-2 summit encounter with Arsenal at Highbury).
Arsenal, on the other hand, fell away, with a five game winless spell, that garnered only 3 points, killing their title challenge. A 3-2 loss to Leeds ensured a ten point swing in United's favour, as their players ended the season singing, "We've got our trophy back!"
The parallels between Arsenal's collapse eight years ago, and City's this season are acute. Before the home victory over West Brom, City had only won one match in their last five. As United have so often proved, this is the time where you have to be playing, if not at your most emphatic, then at your most efficient. 8 points from the last 18 simply isn't good enough to be champions, especially as United have taken 15 points in that same period.
To have any chance of stopping United securing their 20th league championship, City must win the Manchester derby on April 30th, and even that may not be enough. Most pundits agree that City have a stronger set of personnel, and play more expansive football. But they said the same thing about Arsenal in 2002/03, and look what happened then. Mancini has done the right thing in (subconsciously) making his City team like the great Arsenal sides of recent seasons. But he looks to have picked the wrong season as his template. As the French would say,
plus ca change
.
"The Greatest Events in Sporting History" is available to download from http://www.simplysyndicated.com/shows/sportinghistory/, e-mail us at sportshistoryshow@googlemail.com and you can follow us on Twitter @TGEISH