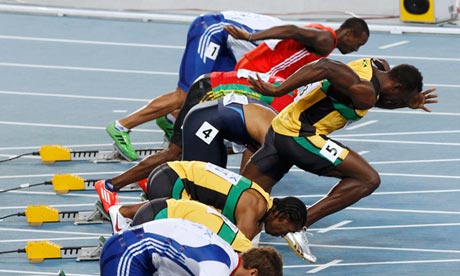 By Shane Thomas
While the Olympics is often the setting for breathtaking dominance; Jesse Owens in '36, Mark Spitz in '74, Carl Lewis in '84, Usain Bolt/Michael Phelps in 2008, there's nothing like a great sporting rivalry. Watching one great athlete in action is a treat, but watching them have to compete against an equal makes for compelling sport. Excellence is a special thing. Excellence + Drama = must-see television. For example, Bolt in full-flow is a sight to behold, but knowing that there's a realistic chance he won't win gold adds a delicious frisson to the 100 metres.
Make no mistake, hanging the gold medal around Bolt's neck at this stage is foolhardy. The form sprinter is not the reigning Olympic champion, but his friend and teammate, Yohan Blake. Those who claimed that Blake's victory in last year's World Championships should come with an asterisk have been made to look rather silly over the last 12 months. While Bolt's disqualification from the 100 metres in Daegu left the path clear for Blake to win his first global sprint title, the man dubbed "The Beast" has been on a steady upward curve. He ran the second fastest 200 metres in history at the end of the last track & field season, and in the Jamaican trials, Blake beat Bolt in
both
the 100 and 200 metres - Bolt's preferred event.
Then we have the event's pantomime villain to contend with. America's Justin Gatlin was once the darling of the track, winning 100 metre gold at the 2004 Olympics, and becoming World Champion at the same distance a year later. However, not long after equaling the (then) word record, Gatlin tested positive for a banned substance in 2006. He was banned for 8 years, but had that reduced to 4 years on appeal. Now he's back, and a major threat to his rivals after winning the American trials in qualifying for London 2012.
What makes Gatlin a target of regular contempt is that 2006 was his second positive test for a performance enhancing drug. Both times he pleaded his innocence, and has - in the eyes of some - been treated with pithless leniency. The possibility of Gatlin triumphing in the Olympic Stadium is something many fans are unwilling to countenance. But there's no denying that he has been in fine form this season, and cannot be taken lightly. And when you add former World Champion Tyson Gay, and ex-World record holder, Asafa Powell into the mix, you have five men all with a genuine chance of winning the gold. For more than the usual reasons, the men's 100 metre final is the one event at the Games not to be missed.
But the clashes don't end there. In the pool we've got Rebecca Adlington vs Lotte Friis, not to mention Ryan Lochte against Michael Phelps. Moving to the Velodrome, we'll see Victoria Pendleton's last stand, as she takes on Anna Meares for the final time before retirement. The enmity between the two is of little secret, and the legacy of both women could depend on the outcome of the women's sprint event.
Every one of these examples will put a unique demand on each athlete. A demand that can be conducive to greatness. After all, what would Seb Coe have been without Steve Ovett? What would Muhammad Ali have been without Joe Frazier? What could Captain Ahab have been without Moby Dick?
"The Greatest Events in Sporting History" is available to download from http://www.simplysyndicated.com/shows/sportinghistory/, e-mail us at sportshistoryshow@googlemail.com and you can follow us on Twitter @TGEISH