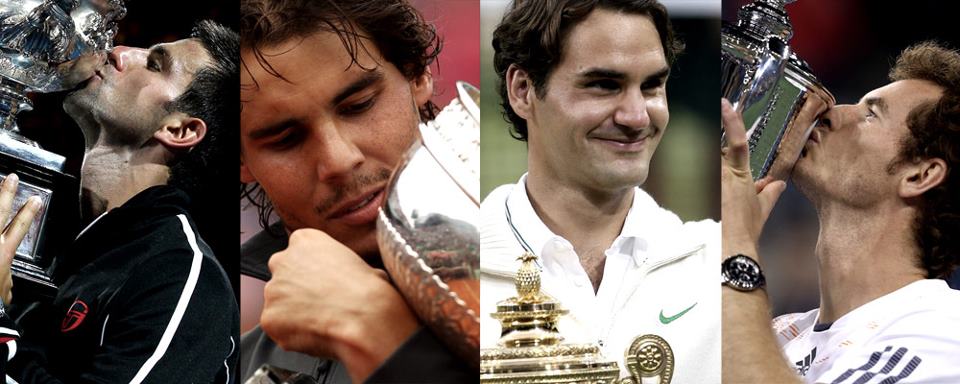 By Shane Thomas
As 2012 is drawing to a close, it's been another sensational year in the world of men's tennis. And once again, the sport's "big four" of Novak Djokovic, Roger Federer, Rafael Nadal and Andy Murray have led the way. Here's a look at how the calendar year has been for all four men:
NOVAK DJOKOVIC:
After a record breaking season in 2011, it would have been the height of optimism to expect Djokovic to continue playing at such an auspicious standard. However, in the early part of the year, it looked as if he might even be able to surpass his previous achievements, as he won the Australian Open in January - arguably the greatest tournament that Melbourne has ever seen.
After an epic semi-final victory over Andy Murray
, which was five-star in every sense of the word; it took five sets to separate them, and took nearly five hours to be completed, I felt we wouldn't see a better match all year. It took only 2 days for
the Djoker
to prove me wrong.
With a day's rest, Djokovic somehow managed to rouse his weary limbs to best Rafa Nadal over near 6 exhausting hours. At times it was as if both men were no longer playing tennis, but were on a symbiotic torture rack. And it was Nadal, normally the "Ironman" of the sport who broke first. Djokovic
fell to the ground
as he won on matchpoint, before tearing his shirt open in sheer delight. Both men could
barely stand
at the trophy presentation. It was a contest that has entered the conversation when talking about the greatest match ever played.
However, rather than be a springboard to more dominance for Nole, it seemed as if his extraordinary win in Australia dulled the brilliance of the Serb. Not by much, but just enough. The mark of Djokovic in 2011 was his temperament on crucial points. In the clutch moments, Nole was always on the right side of the result. But post-Melbourne, he was beginning to lose matches that last year, he was winning.
While he remained a presence in the latter stages of every tournament he competed in, he was beaten in the final of the French Open to Nadal, lost in the Wimbledon semi-finals to Roger Federer, and then lost another tight 5-setter to Murray at Flushing Meadows in the US Open. What's telling is how Murray's victory was partly due to physical conditioning, as Djokovic was hampered by cramp in the final set.
That said, he was undoubtedly the most consistent player of the year, and looked to have got his groove back as the season drew to a close, winning twice in China, and showing his powers of recovery to defeat Federer in the season ending ATP World Finals. It seems that Djokovic's success at Melbourne Park came at a cost, as his cloak of invincibility appeared to fray at the edges. But as he showed in London a few weeks ago, as we approach 2013, Nole remains the man to beat.
ROGER FEDERER:
Since being dethroned as tennis's number one player
by Nadal in that epic Wimbledon final in 2008, Federer has occupied a similar place in the sporting spectrum to Sir Alex Ferguson; a venerable, respected institution who is habitually written off, only to prove that, in the words of the great Richard Pryor, "I ain't dead yet, mother******!"
Now 31, Federer is more circumspect in the tournaments in which he competes. He has been honest that world ranking points are no longer a priority for him. It's titles that matter now. Federer seems to have reconciled that he will no longer be the undisputed king of the mountain, but that doesn't have to preclude him remaining a champion performer.
In his brilliant display to defeat Murray in this summer's Wimbledon final, it made the Swiss arguably the greatest player in the history of the All England Club. It was his 7th title at SW19, equalling Pete Sampras's record.
Federer still manages to keep himself in remarkable shape, negotiating his career without every suffering (touch-wood) a serious injury. For someone who once seemed to be the pre-eminent player in the game as a matter of course, we should also laud his mental malleability at not allowing the likes of Djokovic, Murray and Nadal to derail his career. He's accepted, adapted, and while not always the prevailing force in the game, he still has the tools to defeat anyone. You won't find me writing him off. Federer's not done just yet.
ANDY MURRAY:
"I'm getting closer", were Murray's first tearful words in the aftermath of his defeat in the Wimbledon final. It was a comment laced with wry humour, but that made it no less accurate. As 2012 progressed, Murray was inching ever closer to his goal of becoming a Grand Slam champion.
He may have been
second best
to Djokovic in Australia, but unlike previous high profile losses, it was through no fault of his own. He took the first set against Federer in SW19, breaking that duck in Grand Slam finals, before annihilating the Swiss a few weeks later in winning Olympic gold. And he finally managed to avoid the unwanted record of being the first man to lose his first 5 finals in Grand Slams.
His victory over Djokovic at the US Open was no fluke. He not only showed his quality in taking the first two sets, and his resilience to resist the Nole comeback to 2 sets apiece, but also showed his fitness in outlasting the Serb. In the closing stages of the match, it wasn't Murray who ran out of gas, but Djokovic. This says a lot, as in the embryonic stages of his career, Murray once hit the wall so severely, that he vomited on the Flushing Meadows court.
The final piece of the puzzle appears to have been Murray appointing Ivan Lendl as his coach. This could have been disastrous, but has proven an inspired choice. Lendl's unfussy attitude to the game, and pedigree as a former player looks to have helped rid the Scot of the peccadilloes that prevented him breaking the glass ceiling to success.
While still primarily a counter-attacking player, Murray is now more at ease with taking the initiative against opponents, and has improved markedly in his mentality. We see less of the visceral outbursts of self-loathing that used to blight his game. Murray now focuses more intently on the next point, rather than lambast himself about the last one.
Despite the year he had, it seems that Murray remains an acquired taste with many of the British public. You'll hear a variety of spurious reasons for this, but the crux of the issue appears to be that Murray has committed the unforgivable crime of not demanding our love. In a society which near-deifies celebrity, we expect them to court our popularity, while giving them our fealty in return, Well, like Lendl, it's a game that Murray isn't prepared to play. It's not that he seeks to be disliked, but he doesn't seek to be loved either. While the cream of Britain's sporting talent will be in Manchester next month for BBC's Sports Personality of the Year, Murray will be in America, beginning his training regimen for the 2013 season. He doesn't need celebrity, or the love of strangers. What he seeks is a greater currency; trophies.
RAFAEL NADAL:
2012 was a largely frustrating year for the man from Majorca. While ever graceful in defeat, the loss at the Australian Open hurt him. Could you imagine producing your very best, and still not win? Nadal didn't have to imagine, because it happened. In the same way that he became a constant thorn in the paw of Federer, Nole was having a similar effect on Rafa. All those close matches that he used to win, he was now losing. And more often than not, he was losing to Djokovic.
Which is why his victory at the French Open could prove to be the most significant of his career. The tournament was blighted by persistent rain, eventually causing it to be finished a day late. In the final between Rafa & Novak, it was hit by periodic rain delays. This seemed to affect Rafa, as he briefly was on the back foot in the match. For the first time in his career, we saw open dissent from the Spaniard. He bemoaned the conditions, and was not far from demanding that the match be delayed until Monday. Eventually getting his wish, Nadal came out rejuvenated, and managed to win an incredible sixth French Open crown.
The relevance of this should not be underestimated. It was bad enough for Nadal to lose his place at the top of the game to Djokovic, but to lose at Roland Garros? The venue has been Rafa's personal fiefdom, and it was important for his peace of mind that he held onto his supremacy in France.
However, Nadal's year took a severe blow a few weeks later, and from an unexpected source. In a huge shock, he was knocked out of Wimbledon at the 2nd Round, to the big serving Lukas Rosol. It was an inspired performance from the Czech, but Nadal was hampered by the knee problems which have plagued his career. He wasn't seen again in 2012, suffering from tendinitis.
Nadal's all-action style of play has always led many to fear for his longevity, It seems as if these fears may be well founded. Nadal is expected to return to action in 2013, but how good will he be? While it would be a huge loss for the sport if we saw a less effective Rafa, it would be something of a medical miracle if he returned the same player. I dearly hope I'm wrong, but it looks as if "Ironman's" career is on borrowed time.
The Greatest Events in Sporting History" is available to download from http://www.simplysyndicated.com/shows/sportinghistory/, e-mail us at sportshistoryshow@googlemail.com and you can follow us on Twitter @TGEISH