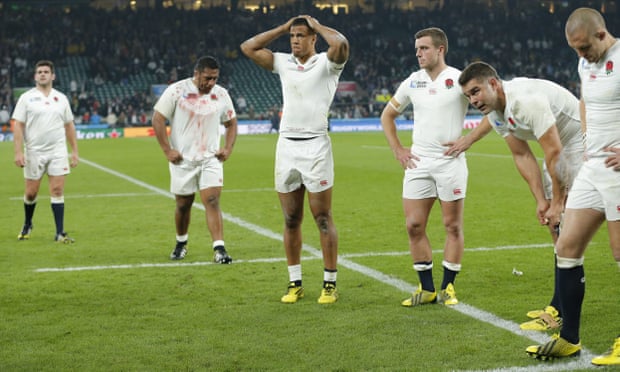 By Shane Thomas
I imagine it's always a thorny issue for a parent when their child hits a stage of near adulthood. One has to take care not to stifle their path to independence, but must also be cognisant of not giving them so much autonomy that they're not yet ready to handle.
It's a difficult balancing act[1], and is a task that Stuart Lancaster can probably relate too. When he goes through the futile but inevitable process of recounting what went wrong against Australia, and this entire World Cup campaign, he'll wonder if his players were the sporting equivalent of a group of adolescents, unable to be trusted to stay home on their own.
Two years ago, I wrote that England needed to add a
sliver of swagger
to the innate earnestness of the side. This World Cup has demonstrated that while the sliver - and it was only a sliver - was there in the form of Jonathan Joseph (and at times, George Ford), they missed one key ingredient that every champion team has - maturity.
Along with Wales and Australia, England were dealt a band hand with the pool they were drawn in. But given home advantage, the bare minimum for England was second place. We should remember that this wasn't a football World Cup, where a semi-final finish would be overachieving. England always go to a rugby union World Cup with a realistic chance of winning. Factor in that they played their key matches at Twickenham, and to be eliminated before the competition kicks into second gear is a dreadful showing.
Wales and Australia are also two nations who rightly feel they have the personnel to lift the Webb Ellis trophy on October 31st, so England had to ensure that they exercised supremacy in the clutch moments.
While England's incapability to manage these moments was evinced in the mess they made of the
closing stages
against Wales, we shouldn't overlook the fact that England also led by 10 points with less than half an hour to go. To fall short in both those situations wasn't due to the quality of the players, but their temperament under pressure.
Australia then took the world's biggest spotlight, and exposed England's callowness for all to see. The game was largely even during the first-half, but knowing they had no margin for error, England played with a frenzy that wasn't controlled, but erratic. They were a toddler on too many E numbers.
Australia meanwhile, executed their game plan with dead-eyed ruthlessness. They knew where England were vulnerable, and made no mistakes when given the chance to
exploit those vulnerabilities
. There's a difference between promise and actualisation. England had plenty of promise, but consistently failed to actualise that promise into points, and attendant victories.
Of course, there was a fundamental failing in England's defeat to Australia. And this was one where the players were less culpable.
Look at the contenders for this World Cup. One thing links New Zealand, South Africa, Wales, Ireland, and Australia. They all have a specialist open-side flanker. A number 7 who has the skill-set to disrupt a team's attacking momentum, and periodically leaven turnover ball.
Lancaster has repeatedly stated that a specialist 7 wasn't a necessity, entrusting the duties to his captain, Chris Robshaw. Well, this long held theory would get its acid test against the Wallabies. Because I lied. Australia don't have a specialist number 7. They have two.
David Pocock and Michael Hooper gave a full demonstration of their skills when they were the chief architects of Australia's stunning
27-19 win
over the All Blacks back in August. And it was the pair who excavated England at the breakdown, destabilising the speed of their attack, and producing numerous turnovers.
It appeared they exposed a fault line of doubt among the England psyche. Because as England began to concede possession at the breakdown, it spread to their usual pre-eminence of the scrum. First penalties were leaked, then they were hemorrhaged. England ended up as the punchline to comedian,
Katt Williams routine
on parents who put leashes on their young children.
This failing would be excusable if Lancaster had the misfortune not to be able to select a high-class, natural 7. But he could have done. Despite arguably being the best open-side flanker in Europe, Toulon's Steffon Armitage was left out of England's squad as he plies his trade in France, rather than England.
Lancaster also inferred that Armitage may be unhelpful to the togetherness that had been previously cultivated among the current group of players. Well, let's hope England continue that great team spirit by all going round Robshaw's house to watch the knockout stages, because they can't do much else with it anymore[2].
Lancaster has always been assiduous in his preparation, and he should always be credited for the way he recovered the England side after their dismal display at the 2011 World Cup. But just as a good parent's job is to ultimately prepare their children to be able to look after themselves effectively, a good head coach should do the same for their players.
This England team are gifted enough to go stride for stride with the world's best. But it's long been suspected that they are coached to follow rigid instructions, rather than think their way through a match.
Lancaster may be a decent man, and competent coach, but he and his staff ended up stunting the professional growth of their players, and unless he can overhaul this approach, I don't think he should be permitted to carry on as England head coach.
The elite level of sport is a place for grown folks. Right now, all England are is a bunch of kids. The World Cup party will continue, but Australia just sent
England to their room
.
[1] - And is one of many reasons why I hope to never be a parent.
[2] - I envisage that Armitage remembered Lancaster's statement about England not needing a specialist 7, and watched the match against Australia in
this type of mood
.
"The Greatest Events in Sporting History" is available at https://soundcloud.com/sportshistory
and http://www.simplysyndicated.com/shows/sportinghistory/, e-mail us at sportshistoryshow@googlemail.com and you can follow us on Twitter @TGEISH