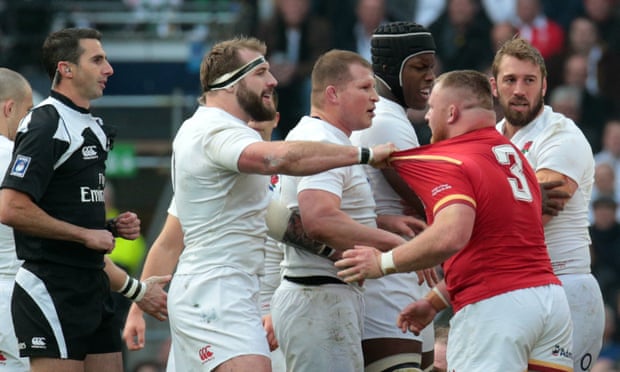 By Shane Thomas
If you haven't heard the news, English rugby union is back. After being ignominiously
dumped out of a World Cup
that they were hosting last autumn, they have since recovered to win their first Grand Slam for 13 years in the Six Nations,
beating France
a little over a week ago to establish themselves as Europe's premier rugby union nation again.
It remains to be seen whether England have progressed to a level where they can challenge a strong Australia team later this summer, but the history books have marked this period as one of restoration for the England side.
But in the midst of England finally being reacquainted with success, there's a chapter in that history book that is in danger of being forgotten as quickly as an election manifesto pledge - and taken with about as much seriousness.
In the penultimate game of the Six Nations,
England beat Wales
, in what was an implicit championship decider. But the occasion was despoiled, as it was revealed post-match that England prop, Joe Marler racially abused his Wales counterpart, Samson Lee. Lee is of gypsy heritage, and in an altercation in the first-half, Marler disparagingly called Lee,
"gypsy boy"
. He also hit Welsh forward, Rob Evans with a forearm smash in the same match.
However, the competition's regulatory body, Six Nations Rugby, determined that no punitive measures would be taken against Marler, ensuring his availability for the aforementioned contest against France.
While England coach, Eddie Jones is said to have issued Marler with a scabrous verbal reprimand, and Marler himself apologised to Lee at half-time - which was accepted - the fact that such language can be uttered without any tangible punishment is as baffling as it is infuriating.
In the lead-up to the France game, Jones was questioned about the matter, and tried to
shift blame onto the Welsh RFU
for attempting to derail England's preparation. Jones was hired for his ability to turn England into winners, and it's clear that his desire to do so includes - as
Rick Broadbent
put it -
"assuming the moral high ground in a row over one of his players making a racist comment and punching a Welshman."
However, this issue isn't closed, as the global governing body for the sport,
World Rugby has intervened
, decreeing that they will conduct their own investigation. Marler may still receive a lengthy ban at a hearing due to take place next Tuesday
Some have
decried Marler's actions
, as well as Six Nations Rugby for it's haphazard, feeble, and torpid handling of the affair[1], but clarity of condemnation has been lacking. The moment World Rugby opted to involve themselves to administer some sense of justice, RFU chief executive, Ian Ritchie denounced this, saying that Marler had
no further case to answer
. One wonders what his feeling would be if
Maro Itoje
- one of the star men of the Six Nations, and tipped to be a future England captain - was the one on the receiving end of racist sentiment?
No doubt he, and England fans, would be unanimously outraged. Because what was apparent was that for England - but let's not pretend that this doesn't occur in all sport - the priority is expediency. The core problem is that too many sports fans have no truck with anything beyond the final scoreboard. Concern for the basics of acceptable human behaviour is absent. The only aim should be getting away with whatever it is you can to get the win, because the W is sport's ultimate masking agent.
What makes this particularly piquant is that rugby union has long styled itself as a beacon of high sporting values. It's seldom to see the sport's benefits espoused without them being used as a cudgel to attack football with (a object lesson in British class prejudice), while others wanted to parse the harmfulness of the phrase "gypsy boy", and whether it even technically counts as racism - demonstrating huge national ignorance surrounding those of gypsy heritage.
It's a rum thing, given that the sport is so closely allied with British
militarism
,
colonialism
, and often leans politically
to the right
. You can understand why George Orwell
allegedly wrote (although it's said this quote has been incorrectly attributed to him)
;
"A bomb under the West car park at Twickenham on an international day would end fascism in England for a generation."
AND IN OTHER NEWS...
- Talking of what people want to get away with in sport, The NBA - among other sporting organisations - has an important decision to make. Next year's All-Star weekend is slated to take place in North Carolina, a state that has just passed
overt anti-LGBT legislation
.
Adam Silver can't control the decisions of North Carolina's state legislature, but he can control where (and with whom) the NBA associate themselves. So are they - as they claim - against discrimination of all kinds, or are they
empty words
for the benefit of their PR department?
- I won't write too much about the death of the legendary Johan Cruyff, bar this. Football remains the sport where I find the most joy and beauty. When thinking of his contributions as both a player and coach, has any individual given us
more moments of footballing beauty
than Cruyff? It's worth noting that whatever Manchester City achieve under the stewardship of Pep Guardiola, Cruyff will have had a hand in it.
[1] -
Matt Dickinson's words
on Marler, the RFU, and Six Nations Rugby were some of the most sapient that I read.
"The Greatest Events in Sporting History" is available at https://soundcloud.com/sportshistory
and http://www.simplysyndicated.com/shows/sportinghistory/, e-mail us at sportshistoryshow@googlemail.com and you can follow us on Twitter @TGEISH