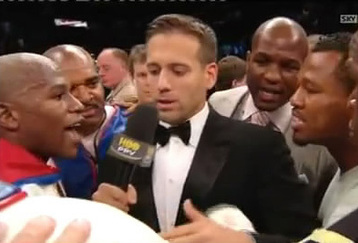 By Shane Thomas
While there will be a more detailed summation to come, here's my round by round updates as the Floyd Mayweather Jr vs Shane Mosley fight happens. Note all times are GMT.
3:45am - The cameras go backstage to Mosley's dressing room as he gets his hands taped up. Some nondescript hip-hop is playing, which I assume helps Mosley get into the zone. When I say nondescript I mean it. I'd love to hear some decent hip-hop come out of a boxer's dressing room. Some Mos Def or Q-Tip for example.
3:57am - The last fight on the undercard is done. Miguel Cotto beaten again (a sad thing to see for a fighter that looked a potential legend at one stage). Just the perfunctory build up and then we finally get going.
4:05am - Unsurprisingly but annoyingly, there's been a delay to the fight. Mosley's trainer (Nassem Richardson) refused to leave Mayweather's dressing room until he saw 'Mr Money's' hands taped up. It's clear he wanted to make sure that there was nothing underhand going on. Richardson was the guy who spotted Antonio Margarito's illegal hand wrapping in the past, so really this is all the Mexican-American's fault.
4:17am - Both fighters gloved up. The anticipation building in the MGM Grand. Celebrities are dotted around the crowd. Curiously a lot of late betting money has gone on Mosley. Given that I want to see Mayweather take on Pacquiao, I can only hope they're wrong.
4:23am - The US National Anthem was sung by R'n'B singer Chris Brown. It seems no-one thought it inappropriate for a self-confessed woman beater to sing 'The Star Spangled Banner' before a boxing match. It's not as if Ike Turner ever did it.
4:25am - Fighters on the way. Mosley comes out to 'Till I Collapse' by Eminem. Good choice of song for its connotations (and it's also a belting hip-hop track).
4:30am - Mayweather arrives to an expected mixed reception. He delayed his entrance until his music began. We know this as the cameras filmed him making his diva-like demands in his dressing room before his entrance.
4:35am - Michael Buffer has announced both fighters. And in the words of ex-referee Mills Lane, "Let's get it on"!
4:40am - Mosley tries to play the aggressor but Mayweather countered superbly. Mosley went down, but the referee correctly adjudicated it a a slip. Mayweather's sharper punching gave him the round.
4:45am - Mayweather caught with a stunning right from Mosley. A minute later Mosley catches him again. Mayweather inches from getting knocked down for the 1st time in his career. He desperately clinched to stay up then. Definitely Mosley's round but Mayweather's grit to not hit the canvas could prove crucial in the long run.
4:49am - Mosley may be paying the price for putting too much into that 2nd round as Mayweather's left dominates the 3rd. Mosley caught four times with solid shots. Mayweather's being unusually aggressive in this fight so far. He leads by a round going into the 4th.
4:52am - More like the cagey Mayweather in that round. Eluding Mosley while catching him with razor sharp left and rights. Mosley needs to tighten up his defence or Mayweather will run away with this fight. I have him leading by 2 rounds.
4:56am - Mayweather making Mosley fight his fight. He's showing why he may be the best counter puncher of all time, catching Mosley repeatedly. Mayweather in complete control.
4:59am - Mayweather as smooth as a James Bond one-liner in this fight. Mosley unable to land punches and is getting caught on the counter. Sugar Shane also looking tired. Mayweather looks like he could go for another hour if needs be.
5:04am - Mosley's tiredness is demonstrated by his low defence. He's leaving himself too open and Mayweather is taking full advantage. Mosley was rocked in the final minute of the round. I think the end could soon be nigh.
5:08am - Mosley getting desperate and is warned by the referee. Mayweather inflicting his own punishment by catching Mosley for fun. At one point, Mayweather laughs scornfully at his opponent. I think this could be over in the next round.
5:11am - Mosley needs a knockout to win but cannot land with anything. Mayweather taking a breather but still catching Mosley with enough shots to win that round. Mosley looks a beaten man.
5:16am - A Mayweather body shot sets up the opening. Mayweather firing off rights. Only Mosley's pride gets him to the bell. Mosley's corner warns him that if he doesn't move his head they'll throw in the towel.
5:20am - Mayweather like a hunter stalking its prey. You feel he could end this at any time. One round left. Will Mayweather put on a show to end it?
5:24am - Mosley fighting manfully but Mayweather waiting for Sugar Shane to overcommit himself and then stinging him with rights. There was one sizzling uppercut from Mayweather. Mosley doing well to last all 12 rounds and pleasing to see respect between the two at the end. The verdict is academic. Mayweather took Mosley to school tonight.
5:26am - Mayweather wins 119-109 on two judges scorecards and 118-110 on another. Trust me, that 118-110 is generous.
5:32am - And as the 'law of Sod' would have it, the feed from HBO cuts out as Mayweather is being quizzed about the possibility of a fight with Manny Pacquiao. Before it went, the issue of blood & urine testing was raised. Mayweather made it clear it no uncertain terms that if Pacquiao won't take the requisite tests then there will be no
superfight
between the two. Curiously Mosley stood nearby agreeing with Mayweather's point of view. I wonder if some in the boxing fraternity will begin to turn on the Filipino as a result.
5:40am - And so it begins. SKY's coverage ends with the faintest aspersions being cast on whether Pacquaio fights clean rather than use illegal drugs. If Pacquiao doesn't acquiesce to Mayweather's demands I think a smear campaign could begin.
5:42am - And that's me done. It's daylight outside and well past my bedtime. Got Chelsea vs Liverpool and the end of The Championship season in about six hours so best get to bed. There'll be a more detailed look at this Mayweather masterclass in due course.
Don't forget to download 'The Greatest Events in Sporting History' Available at http://sportsevents.libsyn.com/