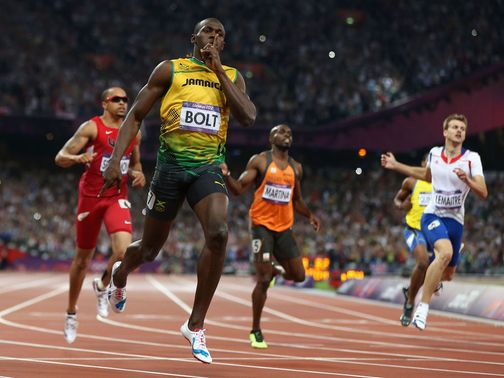 By Shane Thomas
As Usain Bolt crossed the line first in the 200 metres, cementing himself as the greatest sprinter of all time, the doubts and whispers about him disappeared into the London ether. But Bolt never forgot.
Leading into the Games, Bolt was not having a great season. He started by running a (for him) slow 10.04 in the 100 metres at a meet in Ostrava. He was then defeated in both the 100 metres and 200 metres at the Jamaican trials by his teammate and good friend, Yohan Blake.
Bolt has often mentioned that Blake trains harder than him, hence the moniker, "The Beast". After his epochal success in Beijing, had Bolt taken his eye off the ball? Was there someone ready to make a Henry Bolingbroke-like claim for Bolt's throne.
London 2012 showed that rumours of Bolt's demise were greatly exaggerated. He produced two sensational displays to retain both his Olympic 100 metre and 200 metre titles - a feat so unprecedented it proved even beyond the capabilities of the great Carl Lewis.
When discussing Bolt, we often associate him with charisma and good humour, but upon crossing the line in both races, we saw new emotions; annoyance and downright anger. He wagged his finger to the crowd when winning the 100, and put that same finger to his lips in the 200, to silence anyone who had dared question his ability to win when it mattered.
In his post-race press conference, Bolt declared himself the greatest sprinter ever, proclaiming this as "his time". It'd be impossible to argue this, but Bolt clearly felt the need to explicitly state his point. And that is because in the relative world of sprinting, Bolt has taken on the position of God. I mean God more in the Greek mythological sense, rather than the more contemporary Western understanding.
The past year has seen his rivals, and his critics, attempt to show Bolt as a mere mortal, wounded and fallible. Justin Gatlin had the temerity to claim that people had gotten tired of "the Usain Bolt show." Well, this past week was a sporting example of
the infamous Samuel L. Jackson speech in Pulp Fiction.

God was angry, and delivered his wrath. The mortals dared to defy his majesty, and tried to drag him down to the ground with the rest of us. But Bolt isn't like the rest of us. He doesn't belong on the ground. He belongs in Olympus with the David Rudisha's, Michael Phelps's and Sally Pearson's of this world. And these Olympics have ensured that's exactly where he'll stay.
"The Greatest Events in Sporting History" is available to download from http://www.simplysyndicated.com/shows/sportinghistory/, e-mail us at sportshistoryshow@googlemail.com and you can follow us on Twitter @TGEISH