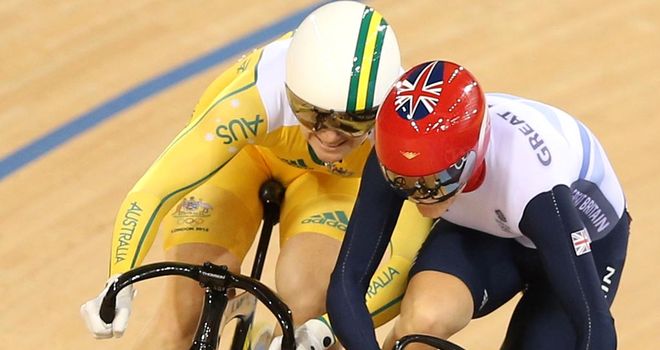 By Shane Thomas
We've seen some extraordinary things at these Olympics, but in the lead-up, there were few events that I wanted to see more than the culmination of one of the most enthralling sporting rivalries for a generation; Victoria Pendleton versus Anna Meares.
While Pendleton could claim first blood, after taking gold in the keirin, the focus would rightly be on the women's sprint, which took place on the final day of action in the Velodrome.
Pendleton's gold in the keirin was an unexpected success. Meares led going into the final lap, but Pendleton timed her move perfectly, taking the lead and keeping it as she crossed the finish line. Meares looked to be totally knocked out of her rhythm as she was passed by her British
bete noire.
She went backwards and finished fifth. It looked as if Pendleton had the whip hand as they competed for one final time in the best of 3 sprint to decide the Olympic Champion.
Like the greatest of rivals, their careers have been defined by the other. Where would Pendleton be without Meares, and vice versa? Their conflicts - which have at times descended into enmity - have been a boon to the world of track cycling (particularly for women).
Off they went in Race 1, with Pendleton starting in the inside lane. Meares likes to be the one chasing, and left Vicky to set the pace before making her move. As the last lap began, Pendleton began to motor and Meares responded in kind. They came into the final corner, with Pendleton just ahead, but the Australian was closing fast. Into the home straight, and Meares made an aggressive move towards the Briton, inadvertently catching Pendleton with her elbow. They came into the last few yards, up to the line, with both Pendleton and Meares a whirling dervish of thighs, calves, and ankles pumping furiously like pistons, and then...
Who crossed the line first? If anyone tells you they knew immediately, they're lying. It took a relative age for the victor of Race 1 to be announced, but Pendleton crossed the line first by 0.001 seconds.
Just think about that. One thousandth of a second. Never had the maxim about fine margins making the difference in sport felt more pronounced than in that moment. It was a compelling ride from both women, a searing demonstration of why these two are head and shoulders above their peers. If you ever want to explain to a non-cycling fan about the Meares/Pendleton rivalry, show them that race. It was a perfect microcosm of how evenly matched they are. And then...
The race commissaire got involved, and sullied one of the greatest pieces of sport seen at these Olympics. When Pendleton received the aforementioned elbow from Meares, she was unbalanced, and in an attempt to correct herself, drifted out of her lane. While it was an infringement of the rules, it seemed clear that the initial infringement - albeit unintentional - came from Meares. Despite the protestations of a furious Dave Brailsford, Pendleton was disqualified, and the race given to Meares.
Pendleton was now tested like never before. As Race 2 began, Meares begun on the inside lane. Like Meares, Pendleton also likes to chase her opponents down, but Meares knew this.
The Australian has a well-earned reputation for aggressive riding, often bending the rules without breaking them. She rode to the outside of the track, and while that was predictable, what she did next was not. With Pendleton in keen pursuit, Meares slowed to a crawl, and almost stopped altogether. What she was doing was making it near impossible for Pendleton to remain behind her, all the while leaving the track open for Pendleton to take the initiative. Unbeknownst to Pendleton - and the watching fans - this was a plan that Meares had been assiduously working on for the past three months; Force Vicky to lead rather than follow, before picking her off on the last lap.
It was a compelling game of patience. Pendleton wanted to remain behind Meares, but "Black Caviar on wheels" was making it increasingly difficult for her to do so. The race became a battle as to whom could assert their race strategy.
And Pendleton's will broke first. Her mind still in a haze from the earlier disqualification, she sped ahead. Meares now made her move, reeling her in on the final corner, and winning the second race - and the gold medal - comfortably.
It was not a good end for the British fans, or for sport. But we shouldn't think ill of Meares. She didn't complain when Pendleton (initially) took the first race, and executed a brilliant game plan to win the second. I reserve all the opprobrium for the commissaire, whose over-officiousness robbed us of what would have been an apposite final chapter. The script was written for them to have a final, winner-takes-all, rubber-match in Race 3.
If Pendleton was raging at her defeat, she didn't show it. As Meares celebrated, Pendleton immediately rode alongside her and extended her hand, to which Meares sportingly accepted. On the medal rostrum, Pendleton put an arm around Meares, as the Australian was understandably emotional as she wore her gold medal. And in the post-race press conferences, they have both been glowing in their praise of the other. It seemed that all the competitive rivalry, all the unpleasant things that have been said in the past, dissipated the very moment Meares won Race 2.
As for Pendleton, she was given a standing ovation from the crowd. In her final race, she may have failed to win gold, but retires as the greatest British female cyclist of them all (although Laura Trott underscored her credentials as Pendleton's dauphin only minutes earlier in the women's omnium). As Pendleton received her silver medal, she appeared to be something that I've never seen from her in a cycling arena; happy. After flogging herself physically and emotionally for years, often for the benefit of others, she seemed to finally have a sliver of peace. Cycling has often seemed to bring her little but pain and anguish, broken up by brief moments of satisfaction in the form of gold medals. Well, no more. She's given us enough. Hopefully now, Victoria Pendleton can live for her own happiness.
But what about that eternal question. Whenever we have a rivalry, the topic always arises, who was better? So who was better, Pendleton or Meares?
In a rum way, should we be thanking the commissaire for making that absurd decision, expediting Meares' path to gold? Regardless of the controversy, by winning in London, fans of Meares can make a case for their girl being the superior. But Pendleton also has an Olympic sprint title from Beijing, which came at Meares' expense. And while Pendleton may have more World crowns, surely the Olympics is the pinnacle. So who was better?
That's the thing. We'll never empirically know. The rivalry may be over, but the debate will continue. Even in Pendleton's retirement, her professional life will be forever tied to Anna Meares. And maybe that's as it should be. Maybe it's only right that we don't place one woman above the other, but alongside each other. After all, they've given us some of the finest sport seen anywhere since 2005, and even though Anna hasn't retired, I'll miss seeing her race against Vicky.
"The Greatest Events in Sporting History" is available to download from http://www.simplysyndicated.com/shows/sportinghistory/, e-mail us at sportshistoryshow@googlemail.com and you can follow us on Twitter @TGEISH