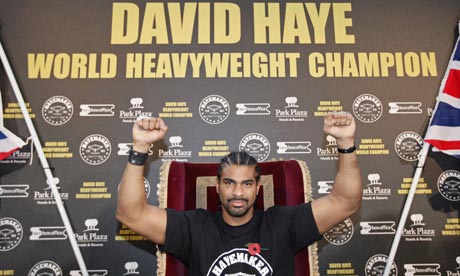 Why David Haye has a lot more to lose than gain on April 3rd:
By Shane Thomas
Britain's World Heavyweight Boxing Champion David Haye has the first defence of his title in less than two weeks in Manchester against the American John Ruiz. Many British boxing fans are looking at this fight as a formality, a routine first defence for Haye, nothing more than a stepping stone for unifying the Heavyweight division of boxing. That alone would be disconcerting, but what is even more so, is that Haye seems to be of a similar mindset.
Since defeating Nikolay Valuev to become World Champion back in November, Haye has become something of a British sporting hero. While heavyweight boxing has been in an increasingly parlous state, Haye may potentially breathe new life into the division. He's a promoter's dream - he's not afraid to talk himself up & has an aggressive style in the ring, always looking to knock out his opponent than win on points. And the fact that women love him does no harm. Also, whilst unfair, the fact that English is his spoken language is also an important part of his appeal. As xenophobic as it is, the fact that the Heavyweight titles were being divvied up between fighters from the old Eastern bloc had been a big turn-off for Western audiences.
And Haye has not been slow to capitalise on this new found fame, plenty of television appearances and self-promotion have become a Haye staple. He has made no secret of his desire to unify boxing's Heavyweight titles before retiring, and this means that the Kiltschko brothers (Wladimir & Vitali) are in Haye's cross-hairs.
The Ukrainians hold every other global version of the Heavyweight boxing title, and as they refuse to fight each other that leaves Haye as the last viable contender to prevent this era being known as the Klitschko era, which would not be good for the sport as the Kitschko's are the antithesis of Haye; plodding, ponderous & cumbersome, and that's just their interviews.
And therein lies the problem, Haye is only fighting Ruiz as the American is the mandatory challenger for Haye's title. Ruiz has barely garnered a serious mention in the build-up to this fight. Boxing is one sport where if you take your eye off the ball for a moment, it can come back to whack you square in the face. Better fighters than Haye have paid the price for not coming into a fight fully focused, and I must confess I am slightly worried that a combination of the new found fame and his discernible desperation to get at the Klitschko brothers could derail Haye's top level career before it's really begun.
There's no doubt that Haye goes into the fight on April 3rd as favourite. I view him as superior to Ruiz and he should win without too many difficulties. But if he gets ahead of himself, and allows his focus to drift towards future challenges, he could be in for a painful reality check. Every great journey begins with a single step, but if Haye tries to step too far, too fast, he could have the rug pulled out from under him in Manchester.
Don't forget to download
'The Greatest Events in Sporting History'
Availableat
http://sportsevents.libsyn.com/
.
The old incarnation of the show can be found at
http://onewild.podbean.com/