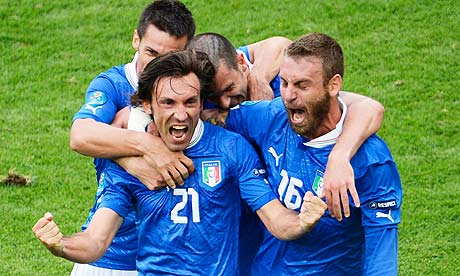 By Shane Thomas
As previously stated on these pages
, England have shown up to Euro 2012 a humbled, docile team. And it's worked pretty well so far. But there's a potential problem. The consensus of the punditocracy oscillates wildly where England are concerned; they're either world-beaters or hapless dolts. While good fortune has smiled on England in Poland and Ukraine, they deserve credit in reaching the quarter-finals, topping their group no less.
With each win, the optimism grows. As the optimism grows, so does the expectation. And this can evolve into reckless hubris. After Tuesday night's victory over Ukraine, there was a notable tweet from Rio Ferdinand that said,
"We will do the Italians #fact !"
Dunderheaded analysis aside, it's a microcosm of a positive disposition that's slowly emerging from England fans. Just because they've managed to avoid a clash with Spain, some think that the Italy match will be a cakewalk. If you come across any of these people, I suggest you ask them if they would be interested in purchasing some magic beans. Make no mistake, in Donetsk on Sunday evening, Italy will be favourites.
England conceded the bulk of the possession in their games against France and Ukraine (35% vs France, 43% vs Ukraine), and as such, have often had to defend with a wall of 8 players between their opposition and the goal. You can be sure that Italy will also dominate the ball against England. In Daniele De Rossi and Claudio Marchisio, they have both industry and technical skill in midfield. But the key is Andrea Pirlo.
Pirlo has had a resurgent last 9 months, and has been one of the star players of Euro 2012. He remains one of the best three passers of a ball in world football, and will pose a new problem for the English defence. In their group games, England's main threat came from attacking midfielders or deep-lying strikers. Well, Pirlo plays the "progenitor" position, dictating the pattern of play and hurting sides from deep. This poses a dilemma for Roy Hodgson and England. Both Steven Gerrard and Scott Parker have been playing close to their back four. But does he get one of them to push higher up the pitch to disrupt Pirlo, and leave Parker - and maybe a narrow James Milner - to face De Rossi, Marchisio, and Thiago Motta?
Or does he get Wayne Rooney to drop into midfield and close Pirlo down? Rooney has often played this role when Manchester United have faced Arsenal in recent years, but it could leave either Danny Welbeck or Andy Carroll isolated up-front.
England must also use the ball intelligently on the counter-attack. Italy are without their best centre-half, Giorgio Chiellini, which leaves Italy vulnerable in defence - especially aerially. But it's a moot point if they continue to surrender possession as carelessly as they've done in their group games.
Added to this, England have been able to keep their group opponents at bay partly because they've only had to deal with one striker. Be it Karim Benzema, Johan Elmander or Artem Milevskiy, John Terry and Joleon Lescott have dovetailed well together with one man-marking, and the other covering his centre-back partner.
However, Italy are one of the few countries at the Euros to play with two men up-front. The dangerous Antonio Cassano will be paired with either Antonio Di Natale or Mario Balotelli. Di Natale brings an efficient economy of movement in the penalty box with a lethal goal touch, while Balotelli brings a coruscating unpredictability that is just as likely to have a deleterious effect on his own team as the opposition. Their respective goals against Spain and Ireland were perfect examples of this.
Either way, Lescott and Terry will have their hands full, and so will England. It is likely to be a close run-thing, but man-for-man, Italy have the stronger set of players. Hodgson has to ensure that the new-found confidence in the England camp doesn't mutate into misplaced arrogance. And lest we forget the Pirlo problem. If England can find the answers to these issues, then they can win. If you have a spare £10, it might be worth betting it on the match going to extra-time.