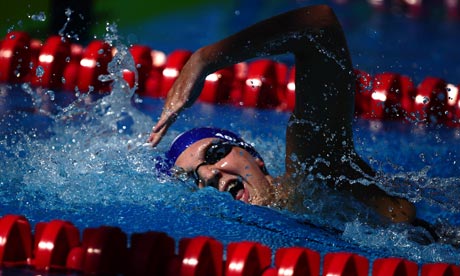 By Shane Thomas
Rebecca Adlington arrives at the Olympics as one of Britain's marquee names. But it's easily forgotten how rapidly her star ascended during the Beijing Games four years ago.
She went to China as little more than an up-and-coming 19 year old, one of those talented kids who's only going to the Olympics for the experience, and on a good day, could maybe, just maybe, nick a medal.
That optimistic forecast came to pass, but it wasn't a bronze Adlington went home with, but
two
golds.
Her breakthrough came in the 400 metres freestyle. In one of the most astounding pieces of sporting opportunism in recent memory, she was in fourth place with only 100 metres of the race left. But she swam a storming final 100 to wipe out the lead established by America's Katie Hoff, who was still half a length ahead in the final 10 metres. Adlington pipped Hoff on the line, shocking the swimming world,
as well as herself
.
Her surprised delight may have been due to her being a relative greenhorn at this level of competition. But the 400 metres isn't Adlington's stronger event. It was more a tune-up competition for the 800 metres. After her gold in the 400, Adlington went from a contender to the favourite in a matter of days. Would the pressure be too much for her?
Not a bit of it. She destroyed the field, not only winning her second gold, but smashing the world record by two whole seconds - a cavernous amount of time in a sport like swimming.
Adlington's success led to her becoming a mini-celebrity back in Britain, coming third in the BBC Sports Personality of the Year award, and receiving an OBE the following year in the New Years Honours list.
What seems to endear Adlington to a large portion of the British public is her surface ordinariness. In the days of professional sport, many athletes are PR managed, seem almost robotic in their dealings with the press, and are defined by their single-minded competitiveness. Adlington however, spoke freely of her love of Christian Louboutin shoes, chocolate, and going to her mother's for roast dinner on Sundays.
Her demeanour is often unassuming. In the same way that at the height of his fame, many New Jersey residents joked that Bruce Springsteen probably worked at the local garage in between gigs, Adlington looks like the kind of girl who you'd be likely to find working the checkout at your local supermarket. There's a reason she tends to be affectionately referred to as "Becky" rather than Rebecca.
But make no mistake, Adlington has a champion spirit. After underperforming at the 2009 World Championships - she admitted she found the scrutiny of being Olympic Champion tough to handle, she showed what a class act she is at
last year's World Championships
in Shanghai. In what was a disappointing meet for many of the British swimmers, Adlington set a fine example on her return to China, taking silver in the 400 metres
freestyle
and winning gold in her preferred distance of 800 metres
freestyle
.
Adlington will be the marquee name for home fans in the Aquatic Centre this summer. She is Britain's queen of the pool, and
de facto
leader. How she gets on could set the tone for how many medals Team GB gain at London 2012. Her surprise gold four years ago precipitated an impressive haul for the British swimmers.
Her results at last year's World Championships give a good indication of where Adlington currently stands against her rivals. She is ranked 2nd in the world for the 400 metres freestyle, and Number 1 for the 800 metres
freestyle. Adlington is a strong gold medal hope, but don't go hanging them around her neck just yet. The 400 metres
freestyle remains Adlington's second choice event, and she will have to go against her bete noire, Lotte Friis in the 800 metres
freestyle. The Aquatic Centre will be the venue for some of the must-see duels of the Games, and Adlington vs Friis is one of them. Either way, it'll make for compelling sport.
"The Greatest Events in Sporting History" is available to download from http://www.simplysyndicated.com/shows/sportinghistory/, e-mail us at sportshistoryshow@googlemail.com and you can follow us on Twitter @TGEISH